Update:February 22, 2016
Seminars at UMDS
"Social Linked Programs" area great way to build your management abilities, by working with companies and governmental organizations through seminars at UMDS.
Created New Kobe Souvenir Called a "Koroni"

UMDS × Otabe(Seminar by Jun Nakauchi)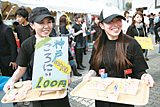 Students sold 200 "Koroni" in 2 days at 100yen/ piece. Patrons enjoyed the unique texture of this unique mochi.
A seminar run by the chairman of the board, Jun Nakauchi was the impetus for this competition. Students worked with Otabe, the company that produces the best-selling souvenir in Kyoto, to create a new Kobe souvenir. 30 students in 6 groups worked together with Otabe to come up with ideas. The winning idea, "Koroni", was sold ata subsequent university festival.
Students Presented a New Idea to Morozoff, One of Japan's Oldest Confectioneries.
UMDS × Morozoff (Seminars byInoue, Usui, Kurita, Goto, Honma)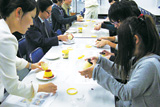 Students presenting unique ideas to the company.
Kobe Design University, University of Hyogo and UMDS joined hands to bring about the "Competition Seminars in Gakuentoshi, Kobe". 24 teams from 3 universities competed to create new business ideas for presentation to Morozoff to increase its sales. The students presented ideas as diverse as new products, items for promotions, and store designs.
Mobile Technology for a Better Urban Life
UMDS ×Soft Bank Mobile Corp. (Seminar by Makoto Fukui)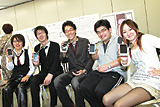 Plans to apply "AR"at the Harborland shopping area are aimed at increasing business to the area.
Students from all faculties got together to explain "AR (Augmented Reality)", the advanced smart phone technology. They then produced an "AR" experience at the school festival to explore the technology's possibilities and to gauge user reactions. Future plans are to apply "AR" in shopping areas and other parts of the city.
Attracting Museum Customers with New Products.
UMDS × Kobe Maritime Museum (Seminar by Takayuki Mori)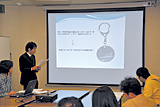 The presentation took place in the museum. And numerous product ideas were discussed, including stationary, games and more.
With the theme of "Ocean, Ships and Ports", the Maritime museum was built to celebrate the 120th anniversary of the opening of The Port of Kobe. UMDS students worked on a project with professor Mori to increase the number of museum visitors. They developed new products for the museum and planned surveys with the museum's existing tourism data. Their presentation was so highly acclaimed; they are now moving forward to bring their ideas to life in the real world.
Local Tours Highlight Kobe from a Whole New Perspective.



UMDS × Hyogo prefecture (Seminar by Akira Adachi)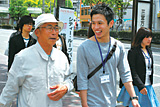 25 students worked as volunteer guides. Some helped elderly tourists and gave them the customized tours.
The "Meet Hyogo Campaign" was run by Hyogo prefecture, the tourism industry and JR (Japan Railway). The students' idea was adopted by this campaign. Students created a tour based on their research in various places around Kobe. The finished tour was comprised of itineraries recommended by the locals they visited and was given on a volunteer basis.